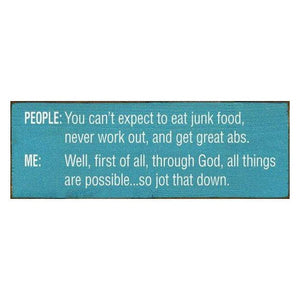 People: You Can't Expect To Eat Junk Food... - Wooden Sign
I can go for a 10 minute run and still eat a whole cake, okay?
"People: You can't expect to eat junk food, never work out, and get great abs. Me: Well, first of all, through God, all things are possible... so jot that down."
Size: 3.5x10 inches
Made from solid knotty pine
Routed slot in back for hanging plus flat edges for optional shelf-sitting