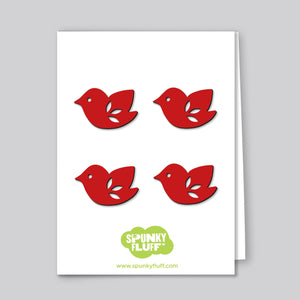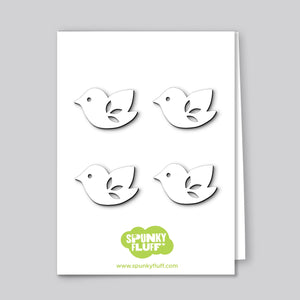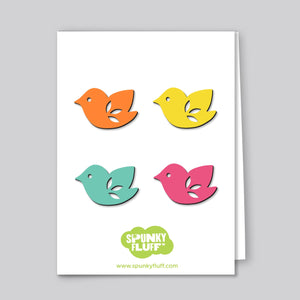 Painted Mini-Bird Magnets
It's the little things in life... that are the absolute CUTEST! Whether you're decorating your fridge, locker, seasonal decor, magnetic frames, etc. We're know you'll get attached to our cheeky cheery mini shape wood-cut magnets!

Our magnets are laser cut from a lightweight plywood and painted in bold, vibrant colors. They make anything you place them on, full of personality!

Mini-Bird Magnet Color Options:
Yellow, Orange, Red, Cobalt, Turquoise, White and Multi-color/Kids of all ages. 

Please note if you order multi-color/Kids of all ages we will choose an assortment from the colors in that theme. Colors include: Yellow, Magenta, Purple, Turquoise, Orange or Pear. 
Each mini magnet has 1 small (but mighty) heavy-duty neodymium magnet attached to the back.
Product Details:
• Each bird measures approx .5" wide
• Magnets are laser cut from 1/8" baltic birch plywood
• 1 small heavy-duty neodymium magnet is attached to back
• Priced and sold as a packaged set of four Mini-Bird Magnets
• Proudly designed and hand painted at our studio in Sioux Falls, South Dakota!

Minimum order qty 4pks.