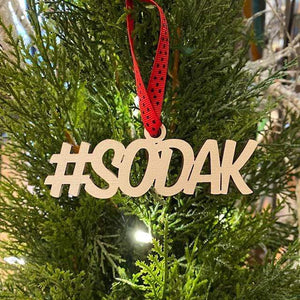 This ornament features a hashtag with some South Dakota slang.  If SODAK is near and dear to your hear, these tree ornaments (or wine tags) are for you!  Available in 18 colors, there's one perfect for every tree. 

All Ornaments Available in 18 Colors:
Yellow, Orange, Red, Pink, Cobalt, Powder, Purple, Magenta, Navy Blue, Turquoise, Teal, Grass Green, Pear Green, Charcoal, Espresso, Cream, Black and white.

Product Details:
• All Tiny Word measure approx. 5"wide, .25"D and .75" to 1" Tall
• Words come strung with 3/8" ribbon in either check or dot print
• Ornaments are Laser Cut from a sturdy, carpenter-grade 1/4" birch plywood
• Proudly designed and hand-made in our South Dakota studio!