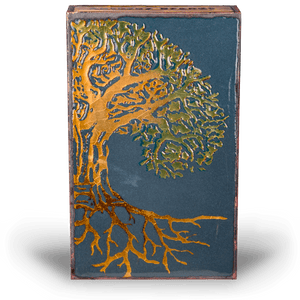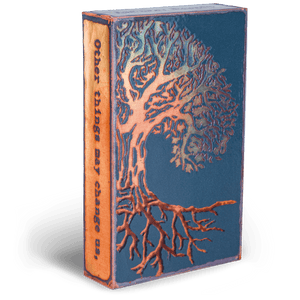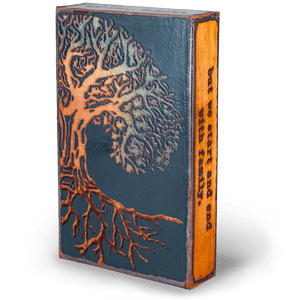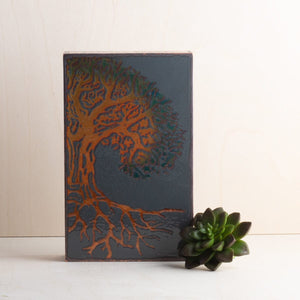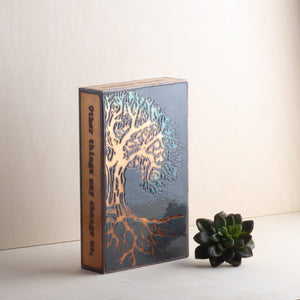 #223 Family Tree Spiritile
Other things may change us, but we start and end with family. -Anthony Brandt
When we're young, family is all we have to start out. They are our first connection, settled deep within our bones, and firmly imprinted upon our memory. As we grow through childhood, family can bother us, embarrass, annoy. We yearn to pull away and become independent, wanting to be known as "our own thing." And perhaps we do. But during this journey, at one point or another, family calls us home, not just physically, but to bond again with our first connection. In the midst of this reconnection, we discover that our home is in multiple hearts, as we find that our family is in our blood, in our love, and in the people we choose to be around.
Details & Dimensions
SIZE: 8.5" x 5.25" x 1.75"
WEIGHT: 2.5 lbs
Made by hand with USA-sourced copper, glass enamel, and a custom wood box frame.
 Care & Use
CARE: Enamel artwork is best polished with household glass cleaner and a soft cloth.
DISPLAYING: These delicate yet durable artworks are made to last, resist fading, shine under light, and fire up a meaningful conversation. Spiritiles can stand up on a flat surface or hang on a prized wall. They can stand alone, but love company. Each piece is sized the same to mix and match for a collection that tells your story.
HOW TO HANG: Drywall screws work great! When affixing the screw, leave a ¼" lip to rest the frame's hollow on the screw head. The art will sit securely and flush with the wall. When hanging multiple pieces, the ideal spacing between screws is 7¼" horizontal and 10½" vertical.