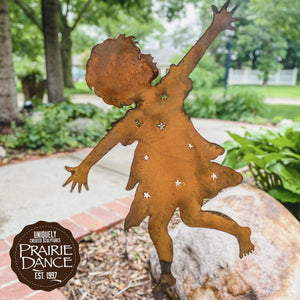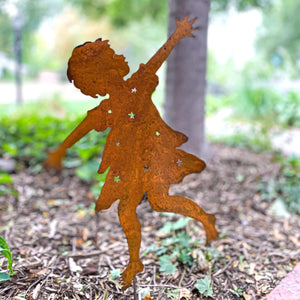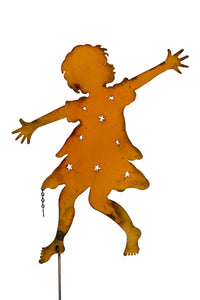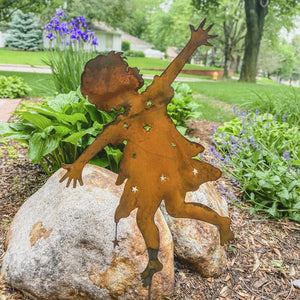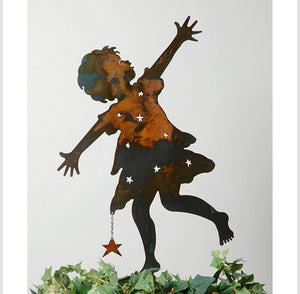 Carol Roeda Girl Dancer Decorative Garden Stake
They say "happy girls are the prettiest," well, our Girl Dancer Garden stake is sure to be the prettiest addition to any garden, memorial, lawn/landscape around!
Designed by Carol Roeda Studios and produced by Prairie Dance! The "Girl Dancer" metal garden stake is crafted from a lightweight steel and hand-finished, ensuring a one of a kind patina marbled pattern. 
Prairie Dance Garden Stakes are shipped ready to use and require no assembly. All of our products are sealed with a clear coat of polyurethane to protect during handling.
Garden Stake Dimensions
:
• 26.5" high x 16" wide
(a total height of 40" with integrated garden stake)
Product Details:
• Lightweight Steel - Magnetic Surface
• Handcrafted - will have slight variations in color
• Patina finish - sealed with a clear coat of polyurethane to protect
• One-of-a-kind patina patterns/marbling cannot be replicated
• Proudly made in the USA at our studio in Sioux Falls, SD

Outdoor Care - Sun will eventually break down the protective polyurethane coating on our products allowing moisture to come in contact with the steel. Most people choose to let nature take its course and let the steel age naturally. Others choose to preserve the patina by spraying 2-3 additional coats of polyurethane per year. (Polyurethane spray is available at most hardware stores)