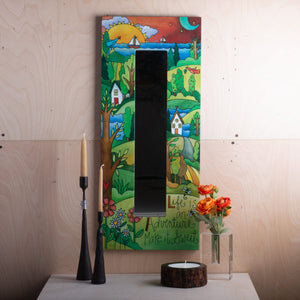 The Right Path - Illustrated Mirror
"The Right Path" is beautifully illustrated mirror made from solid wood.  This piece is sure to be a treasure for generations.  The artwork depicts Midwest lake life and scenery with the inspiring words: "Life is an adventure. Make it sweet."   
Mirror features keyhole on back for hanging.  Title is hand inscribed on the back and includes Sincerely Sticks seal of authenticity. 
Every Sincerely Sticks piece is artisan printed from an original furniture piece in the Sticks catalog.  Manufactured in Des Moines, IA these prints reflect the recognizable aesthetic of Sticks handcrafted originals.  
Dimensions
12"w X 28"h
Features
Multi-coated with low VOC polyurethane to provide a durable long-lasting finish.
Keyhole hanger

Care
Use soap and water to clean. 
Avoid direct contact with extreme heat. 
Avoid long exposure to direct sunlight to protect color from fading. 
Do NOT layer glass directly on top of your Sticks piece.