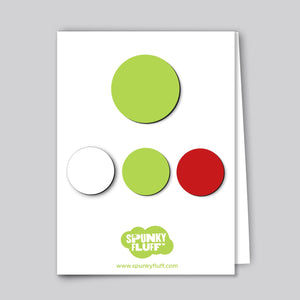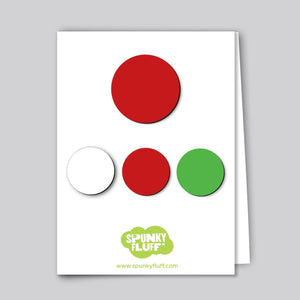 Painted Dot Magnets, Mixed
Whether you're decorating your fridge, locker, seasonal decor or magnetic frames, We're sure you'll get attached to our hand-painted cheeky cheery wood-cut magnets!

Our magnets are laser cut from a lightweight plywood and painted in bold, vibrant colors. They make anything you place them on, full of personality!
Each wood dot has 1 large, heavy-duty neodymium magnet attached to the back for maximal hold.
Mixed Magnet Packs contains three randomly assorted colors from within color theme you select 

Spunky Fluff Color Themes: (see chart in photo gallery)
•Kids of all Ages, Everyday Brights, Earthy Home, Elegant Neutrals, Christmas Traditional, Christmas Bright
Product Details:
• Small dots measure .75" in diameter
• Large dots measure 1.125" in diameter
• Laser cut from 1/8" baltic birch plywood
• 1 heavy-duty neodymium magnet attached to back of each dot
• Priced and sold as a packaged set of 3 small dots & 1 Large Dot Magnet
• Proudly designed and hand painted at our studio in Sioux Falls, South Dakota!
Minimum order qty 4pks.