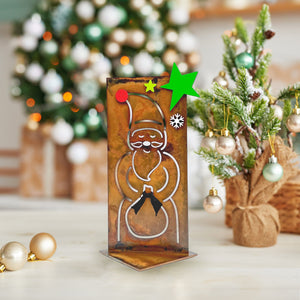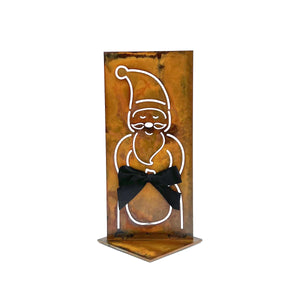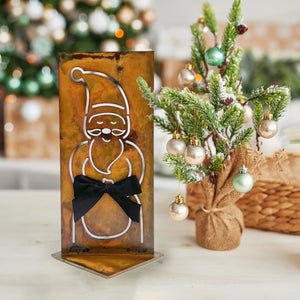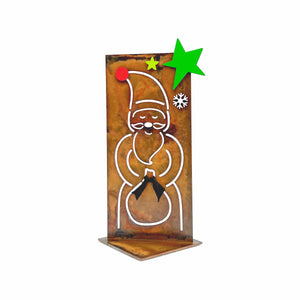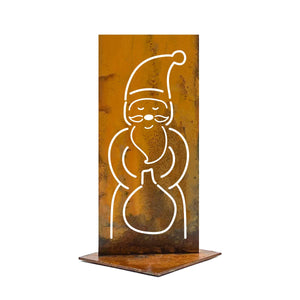 Santa Clause Panel, Hand Drawn Santa Metal Christmas Decor
This brand new Santa Panel is a fresh and modern take on Old Saint Nick. Pair him with any of our tree panels, collectible stars or reindeer for a fun festive display!

Santa is laser cut from a steel panel, welded to a base and hand-finished ensuring a one-of-a-kind patina marbled pattern.
Product Dimensions:
• 4.65"w x 10"h

Product Details:
• Magnetic, Steel Surface
• Handcrafted — slight variation in color
• Steel with patina finish, clear coat of polyurethane to protect
• One-of-a-kind. Patina patterns/marbling cannot be replicated
• Proudly made in the USA at our studio in Sioux Falls, SD
Note: Decorative magnets sold separately.
Christmas Decor, Christmas Decorations, Holiday Decor, Holiday Decoration, Christmas Mantle Decor, Santa Claus Figurines, Santa Shelf Sitter, Tabletop Santa Decoration, Metal Artwork Santa Clause Figurine, Modern Holiday Decor, Scandinavian Style Christmas Decor, Copper Patina Art