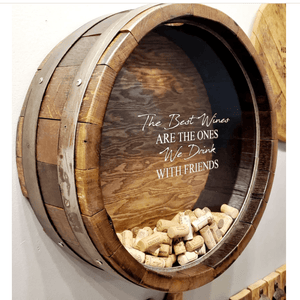 Wine Cork Display - The Best Wines
"The best wines are the ones we drink with friends"
This beautiful wall display is the perfect home for wine corks from treasured get togethers.  Made from a reclaimed wine barrel.  Ebony finish.  Drop corks through a 2" opening at the top of the barrel.  Back of piece opens enough to fit a wine bottle.  Measures 20" diameter x 8" deep.